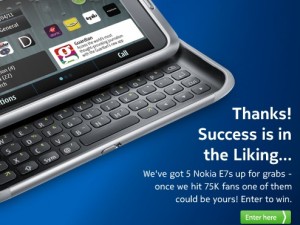 Guys from Nokia UK is very thoughtful to us as they will be celebrating on their FB page when they hit 75k fans and they didn't forget us, of course. They will be giving away five (5) brand new Nokia E7-00 once they hit the 75K mark.
So all you need to do is like their page on facebook and have a chance on winning one of the Nokia E7, the success bundled device.
Steps:
1. Like their facebook page: Nokia UK
2. Go to the Nokia E7 give away page link below their profile picture
3. Enter your email and info
4. Wait 'til it reaches to 75k fans and for the announcement of winners
Good luck!