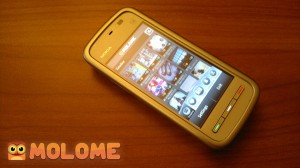 Have you updated your Molo app to version 1.1.1? Molo have released a big update for the application. It now opened the features that are locked on the previous one and tons of additional features were loaded. See below lists for the change log.
The changes that are most noticeable is the list of new effects added and the option to upload from gallery or camera. The notifications and the follower/following profile tabs are now open and overall speed was improved. Lists of the other changes can be found below.
-Speed Up the app
-Upload from gallery
-Landscape in share and comment tab
-Twitter and Facebook UI changed
-Clickable Usernames
-Crop and Rotate Images
-New effects: Parlo, Crossy, Sunset, Virdescent, Frame 2, Paper 2
-Viewable followers and following
-Overall improvements on speed and post processing
-Others are listed on their blog.
How to install or update new Molo?
1. Uninstall App (if old version is installed)
2. Download the App via Ovi Store or link below
3. Install the App for Symbian: S60v5 and S^3
Ovi Store Link

Download direct MoloMe to PC