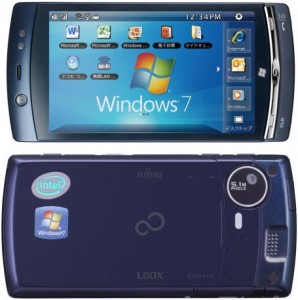 This is real and it's final to have Fujitsu unveiled this Loox F-07C. A dual boot smartphone capable of Symbian and Windows 7 OS. The smartphone is boast with 4″ screen, 1.2 GHz Intel Atom, 1GB of RAM, and 32GB of internal memory. Other specs are listed below with the video demo.
Fujitsu Loox F-07C Specs:
4″ screen @ 600 x 1024 pixels
OS: Windows 7 32 Bit Japanese Edtion, Symbian at unknown version
SSD: 32GB, External: up to 32GB + 2GB
WiFi 802.11b/g/n, 3G, GSM
5MP AF Face detection camera
Price: $860 approx.