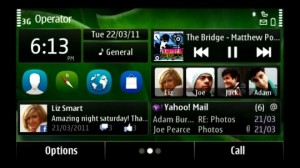 Our featured theme this month is the BokehRafa by IND190. The theme features a vibrant black background with colourful and tantalizing bokeh of lights effects. It's whole UI effect is very simple and refreshing and it packs a wide premium lists of Symbian Anna icons. Yes, you read it as premium but this theme is free for download. Thanks to IND190.
Other facelift of the theme can be found from our screen shots below.
To download the theme, you should head over to Ovi Store or use this link: http://store.ovi.com/content/150519

Like this theme? Checkout our ready to download themes here.