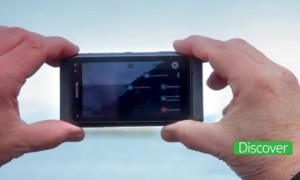 The Nokia Live View on experimental stage is the first augmented reality browser from Nokia. What it offers is POIs right in your camera view finder and current location. It senses where you are through A-GPS support then locate you in map and give you lists of POIs right from your camera view. These POIs examples are establishments like coffee shops, restaurant and other interesting points. It is also now integrated in your Ovi Maps and you can share it to friends in your contacts through SMS.
Current status of the application is experimental stage but you could try it to your Symbian devices and check more the info of the app at Nokia Beta Labs.
Similar application for this one is the Layar Augmented Reality Browser that you could also have it in your Symbian devices.