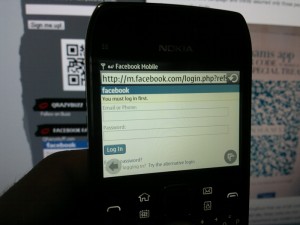 Nokia E6 is one of the prime business smart phones in Nokia's latest Eseries line up. Therefore it's much expected to aide and answer our needs in enterprise solutions and daily tasks as professional or working bees with the thirst for speed typing in mobile experience. That's also why Nokia is proud to be a well-known mobile manufacturer in the land of QWERTY-nia and messaging because they've already proven it with their previous smart phones like the 9000 Communicator, E63, E72 and so on.
So the test I've come up to do on the Nokia E6 was about the Full Focus camera of it. In light with the NokConv post of Jason about the QR resurgence, it came to my mind that the fixed focusing camera spec of E6 might be hindrance to some basic smart phone use like QR code scanning. But let's see if having FF is a down on QR scanning.
QR codes or quick response codes are like 2D bar codes or 1D codes use for easy and fast tagging of info in products like web multimedia uses and other digital thingy. On the 3rd end users, what you only need to access the data that were tagged is through the use of code scanner. And on smart phones, QR coding is gaining some position and popularity on the digital world like web.
To test the Nokia E6, I've used the UpCode version 4.08 app that are compatible to many Symbian devices. You can download it free from Ovi Store. It also important to note the specs of E6 camera as QR codes varies in sizes like from 1×1″ to posters size-like that you can find in malls. It has an 8 MP Full Focus at 50cm to infinity of focusing and with 28mm focal length. So rule of thumb is you can't do macro or close up focusing on E6 as this is a hardware difference from auto-focus camera like on Nokia N8.
After completing the requirements for the test. The next step for me is to pick the QR codes samples from web like websites or solid QR codes link up on products like food or something from grocery.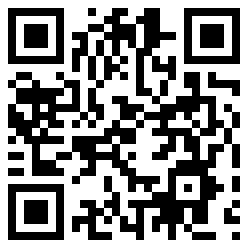 Sample of QR code or 2D for smart phones
Test on QR or 2D.
The most common QR codes on advertising sections of web are now on 2D or matrix. It's a black and white or colored image with free form elements which data can be attached to it.This kind of QR codes can be found from web or in printed form in establishments and are used in smart phones worldwide.
On the other hand, the QR code was born from 1D or bar codes, it is the standard for companies' consumer products, it uses vertical stroke lines and numerical symbols and can be found in all solid products from your grocery or department store. But the 1D are most of the case only suitable for consumer products and not efficient on smart phones and web.
Step-by-step QR scanning:
1 Automatic scan and zooming of the app on E6
2 After few seconds, the app will recognize the QR code and will be highlighted on green detail once successful
3 Collected date from QR will be automatically locate by your phone through web browser, most common are web page link or product info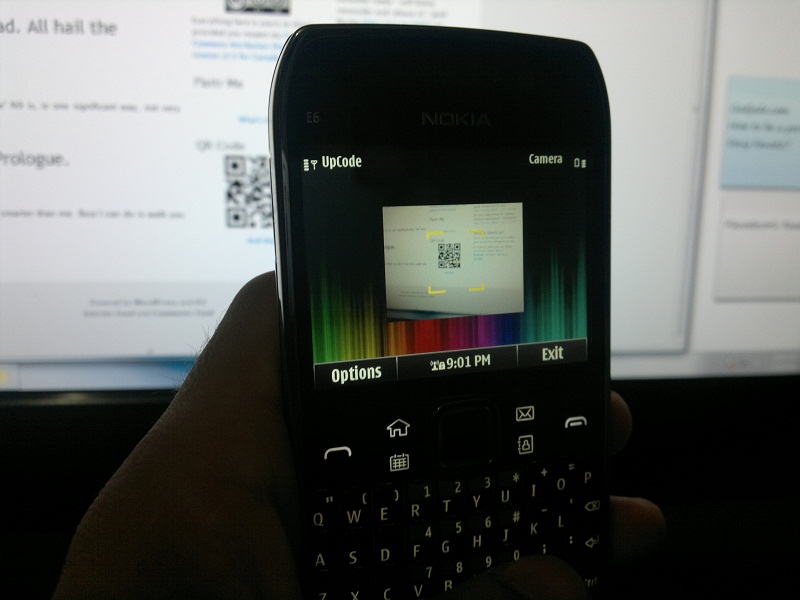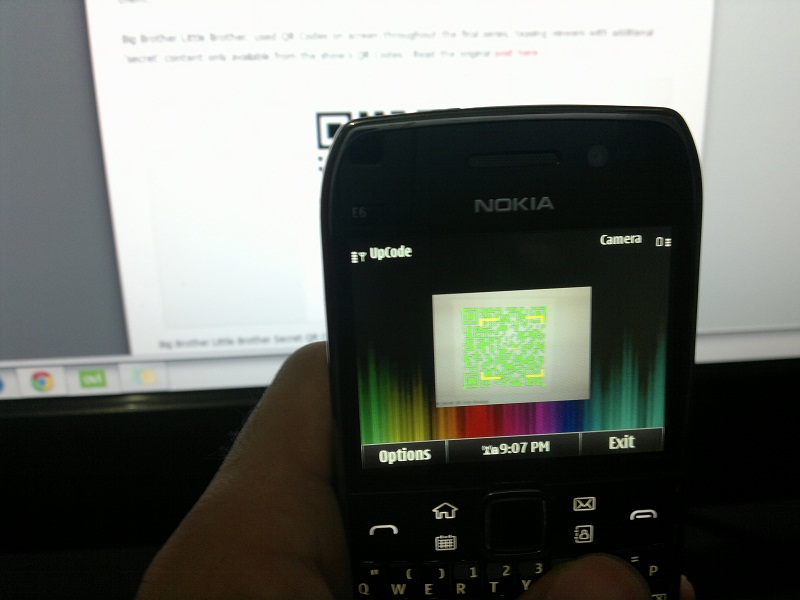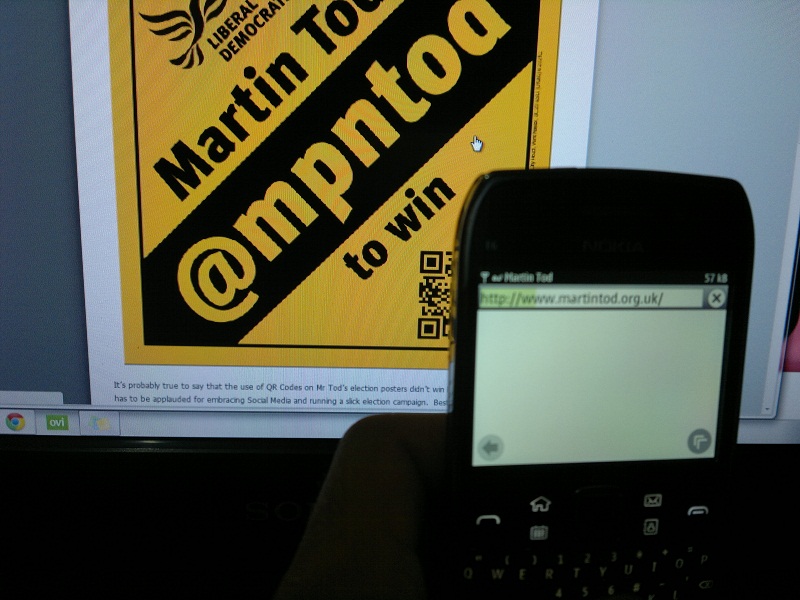 Distances of QR images scanning in a Full Focus optics:
The UpCode features an automatic and manual zooming while on scan mode. And even though the Nokia E6 camera optics will focus from 50cm to infinity, the E6 successfully scanned the QR images in varying distances, thanks to the app.
Tested the E6 QR scanning from 10cm to 36cm and it worked perfectly.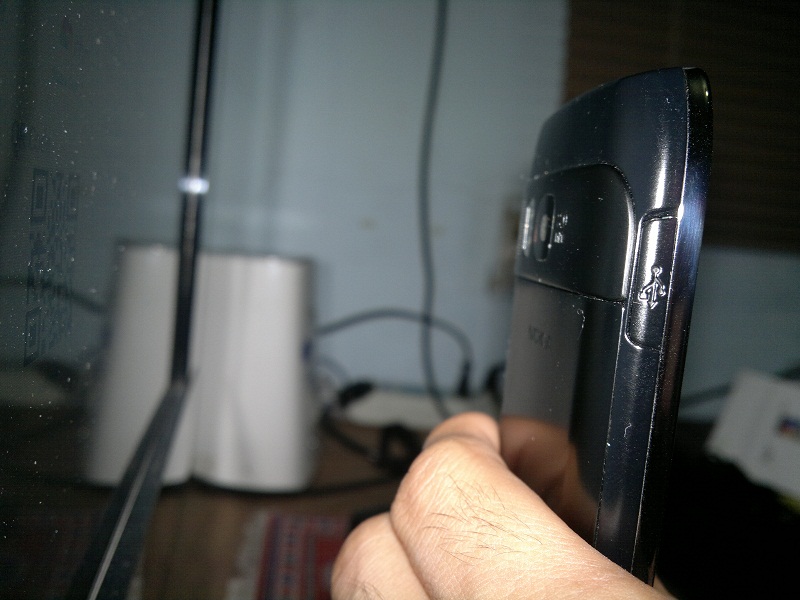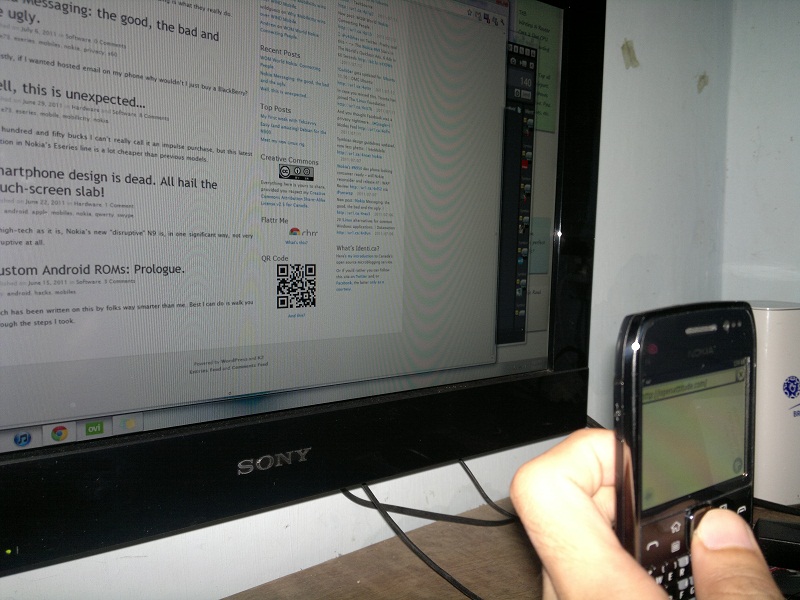 UpCode Application
The application also support virtual, 1D and other types of scanning. Unfortunately, the Nokia E6 failed to scan bar codes or 1D due to the lack of auto-focusing and lamp assistance unlike on N8 that have both and successfully read the 1D code. But the thing is, 1D is used on commercial products whilst 2D is on smart phones. So nothing big deal about this.
You can also create your very own QR images using the app and attached it with your preferred information. Also, the app features tweakable camera settings and other options that are very useful in scanning.
Conclusion.
The Full Focus optics on the E6 was seen as not a problem on QR coding even we have some camera restrictions. And if you're one of the enthusiastic person that awaits for more QR resurgence in your place, then having E6 is an answer for it.
Download UpCode Directly (150KB, zipped sis file)
or
Download UpCode from OviStore.