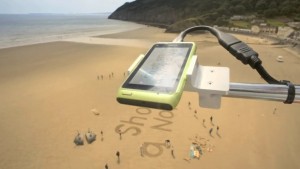 The anticipated Nokia Gulp is finally done after some liters of sweat and time have been poured in order to finish this project. And for the special mention, Nokia N8 played a big role on achieving this project together with the creator Sumo Science. So find out more after the break. 
For those who've not heard of it yet, Nokia Gulp feature a stunning stop-motion animation at the beach of Pendine, South Wales. Stunning it is, as it breaks a new world record for the biggest stop-motion animation stretching up to 11,000 sq. feet of used beach area. Yet, that is not only the ground breaking was been made as the Nokia N8 also had been used in filming this massive stop motion animation. A camera phone of Nokia that is capable to shoot HD and stunning images.
Watch the video below.