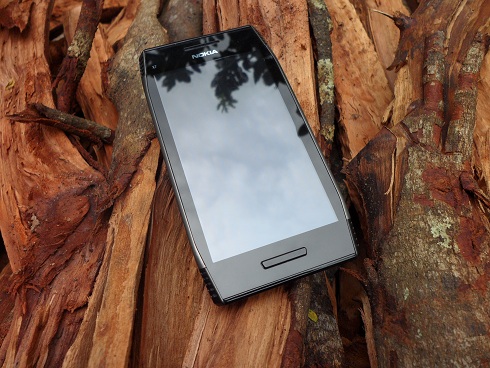 Last time we started the Nokia X7 fever by unboxing it to you. This time we're going to share another X7 fever. So jump in and find out more after the break.
Having used Nokia X7 for several days already made me hooked on the device itself. Especially on the curvaceous body with stainless steel finish on back and the grilled edgy corners that gives the look of a futuristic robotic phone. The sexy factor is also the same on large screen and pure crystal black bezel that surrounds it.
Also, you get more hooked on it's slim and sleek form factor as it really feels great in both or single hand use.
On the facade of the phone, the grilled corners design are visible which attracts attention. But for me, the back and the side view of the X7 gives most stunning look of the device which showcases it's robotic and stylish design at the same time. Nokia X7 is really my most LOVED design in all Nokias I have used.
Sides, top and bottom of X7 are also unique due to the curved elongated back. On which you would rather see an arc when you view on on top and bottom. The keys also blend to the body with metallic finish design.
When I put and compare N8 and X7 together, I can barely noticed their resemblance. But when I look deeper on these devices, there is still thought on my mind that X7's design is quite inspired and sprung from N8. The top and bottom caps would suggest their similarities. And of course, both device has unique hardware design features.
Nokia X7's design is indeed premium and very unique. From the metal body to the edgy corners it exhibits elements which you can drool and hooked with. So far, Nokia X7 exterior is my favorite both in my eyes and hands.
A closer look video of X7 and N8 design.