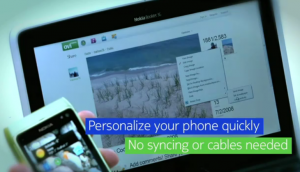 Downloading and installing apps on your Nokia smartphones are now much easier, thanks to the updated Nokia Drop. With the latest Nokia Drop you can now alternately download and install apps from Ovi Store directly and wirelessly to your device. It's another method from Ovi Store in your device, direct download to your PC, and SMS.
Previous methods:
Download through Ovi Store in your device
Send link to your device through SMS and download via Ovi Store in your device
Download directly in your PC and then transfer it your device
Added method:
Send via mobile or Nokia Drop function, download via PC then Ovi Suite will download the app and automatically install it in your device wirelessly.
Currently this is still on Beta phase and you can try it by downloading the plug in for your browser; Chrome and Firefox, and then installing the app in your phone.
DOWNLOAD and INSTALL Nokia Drop plug ins and app from here.