WOM World Nokia invited me and Scott aka Emo185 to New York City to be part of Nokia's next N-Gage advertising campaign. The campaign is actually based around the faces people pull when they're playing N-Gage games. Involving us, passioned N-Gage user, in this advertising campaign is indeed great. Monday we, Mike and Collin from WOM World and Scott and me, went to the Jack Studios to kick off the campaign. On the way to the studio we could already saw some great sides of New York such as the Empire State building. Arriving in the 12th floor we entered the Jack Studio which looks pretty stylish and funky. After we talked with all the members of the team Scott, Mike, Colin and I took a seat to relax and to watch what is happening. In the meanwhile we always talked to the photo shoot team which were actually really kind and relaxed. The whole atmosphere was awesome and very lean backed.
Here three pictures of the studio and the set. After the lunch Scott and I were ready for the shot. Of course we got professional make up and the hairdresser cut my hair pretty well. Than it was time for the actual photo-shoot. Yet I don't want to say much about the actual shoots but we had to sit in front of a black curtain. I think the shots became pretty well and it made a lot of fun.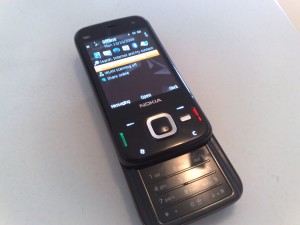 Scott ( another one), one of the crew-members, had an N85 with which we could play a little bit. This N85 was also a part of the campaign as we used it for some shoots.
After the photo-shooting Scott, Colin and I went back to our hotel and talked about the photo shoot. We three were pretty blown away and really enjoyed it. Indeed it was a lot fun for everybody. Looking behind the scenes of a advertising campaign and even being part of it was awesome. I've taken tons of pictures and recorded some videos with the N96 and 6220 Classic. I will use them in further post so stay tuned.